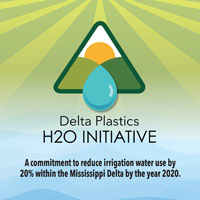 Pipe Planner Offered Free To Farmers

Delta Plastics the leading manufacturer of irrigation polytube, launched a regional initiative for water conservation that includes one very ambitious goal. The "Delta Plastics H20 Initiative" is a commitment to reduce irrigation water use within the Mississippi Delta by 20 percent by the year 2020.
Standing with state, regional and national leaders in agriculture and conservation, Delta Plastics said the initiative was motivated by declining water levels in the Delta and a need for the agriculture industry to embrace new sustainability practices on the farm.

"This initiative is the most important conservation effort we have ever launched," said Dhu Thompson, Delta Plastic's Chairman. "'Preserving our farmland' has been our company slogan for nearly 20 years. But conservation and sustainability is so much more than a slogan for us. It is a principle that has driven every major operational decision that we have made."
The foundation of the Delta Plastics H20 Initiative will be to provide the company's irrigation management software, Pipe Planner, free to all farmers immediately. Pipe Planner is a user-friendly, web-based application designed to help farmers create the most efficient polytube irrigation system for their crops. Pipe Planner's innovative program dramatically reduces irrigation time, water usage and energy costs for growers through uniform water application across fields.

Delta Plastics estimates average water savings of 25 to 50 percent in addition to an average 25 percent reduction in energy costs when using Pipe Planner.

"Delta Plastics is proud to lead an initiative that will revolutionize the way we address water management on the farm," said Thompson. "We are even prouder to be working alongside the nation's most respected leaders in agriculture and conservation to accomplish these goals."

The Delta Plastics H20 Initiative is supported by a diverse group of stakeholders from the agriculture, conservation, academia, government and private sectors. Official partner organizations will assist with education efforts to enhance Pipe Planner utilization across the Delta Region.

Also speaking at Thursday's announcement was Arkansas Farm Bureau Executive Vice President Rodney Baker and Agricultural Council of Arkansas President Rick Bransford.

"Agriculture has been working tirelessly to contribute efficiencies and new conservation practices to ensure the long-term availability of our natural resources. With the H2O Initiative, we're pushing even farther in those efforts," said Baker.

In addition to providing Pipe Planner for free, the Delta Plastics H20 Initiative will accomplish the following items:
Create a public/private partnership between Delta Plastics and the University of Arkansas Division of Agriculture, Mississippi State University and other universities within the region.
Host educational forums for farmers, university extension agents, and private consultants focused on Pipe Planner implementation.
Allow participants to collaborate on the most efficient water use practices.
"Delta Plastics has been a leader in water conservation and solving environmental challenges over the years, and this H20 Initiative is further proof of that commitment," said Bransford, who farms row crops in Lonoke, Arkansas. "Pipe Planner is an example of precision agriculture that is coming of age with the technologies of Internet, wireless communication systems, GPS, and cloud computing."

Leaders from over 20 national and regional organizations representing Arkansas, Mississippi, Louisiana, Missouri, Tennessee and Texas also attended the announcement. They include the following: Agricultural Council of Arkansas, Arkansas Agriculture Department, Arkansas Association of Conservation Districts, Arkansas Economic Development Commission, Arkansas Farm Bureau, Arkansas Rice Federation, Arkansas Natural Resources Commission, Arkansas Natural Resources Conservation Service, Arkansas Corn and Grain Sorghum Promotion Board, Arkansas Cotton Council, Arkansas Soybean Promotion Board, AgHeritage Farm Credit Services, Bayou Meto Irrigation District, Delta Council, Delta F.A.R.M., Delta Wildlife, Ducks Unlimited, Louisiana Cotton and Grain, Mid-South Soybean Board, Mississippi Natural Resources Conservation Service, Mississippi State University, Natural Soybean and Grain Alliance, the Nature Conservancy, Tri-State Soybean Forum, United Sorghum Checkoff Program, and the University of Arkansas Division of Agriculture.

"Delta Plastics is a company committed to sustainability in agriculture," said Thompson. "We will continue to be a leading advocate for sustainability by supporting additional research and development of Pipe Planner, ensuring the program will deliver maximum water savings and serve as a positive resource for farmers everywhere."